NORQAIN Manufacture Calibres:
Produced at the Kenissi factory in Le Locle, the NORQAIN Manufacture Calibres are the perfect additions to our established collections of robust, stylish and precise timepieces.

Affirming the exclusivity of these movements are the unique NORQAIN decorations such as the golden "double-N" NORQAIN logo, symbolising the Swiss Alps, on the oscillating weight and "Adventure – Freedom – Independence", the brand's core values which lend
themselves to the names of NORQAIN's collections, engraved on the bridge.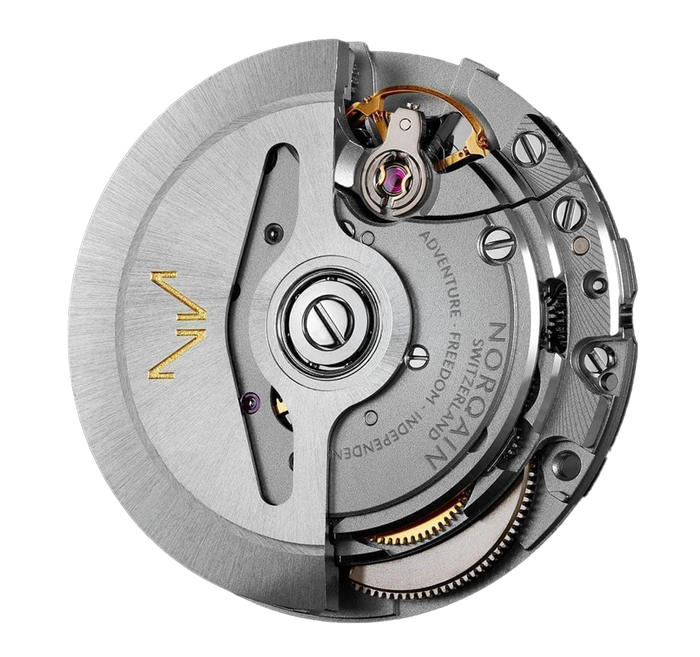 Three-Hand Manufacture Calibre NN20/1
Displaying the hour, minute and seconds with a level of precision that exceeds industry standards, this Manufacture Calibre has been designed to withstand the movements and jolts of an active lifestyle.
The NN20/1 Calibre
Our COSC-certified three-hand Manufacture Calibre boasts sturdy construction for lasting durability and a weekend-proof power reserve.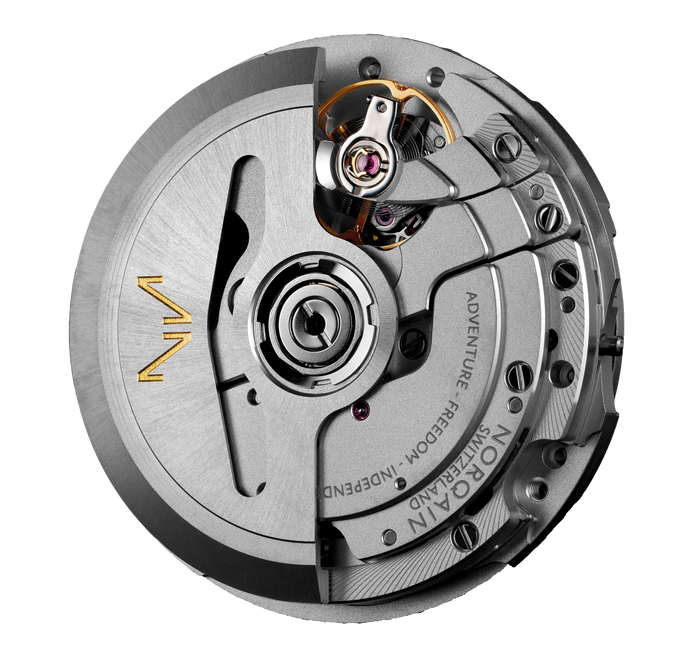 GMT Manufacture Calibre NN20/2
The GMT movement in particular boasts a jumping hour feature to easily set the local time and change the date forward or backward at any time of the day - perfect for explorers whose sense of adventure knows no borders or time zones.
Our NN20/2 Calibre
The COSC-certified GMT Manufacture Calibre makes it easy to change the date without looking at the time. The clear-cut setting features a patented clutch system that gives the crown obvious setting positions so that you never misses the date setting position and the date can be changed at any time of the day without risking damage to the mechanics.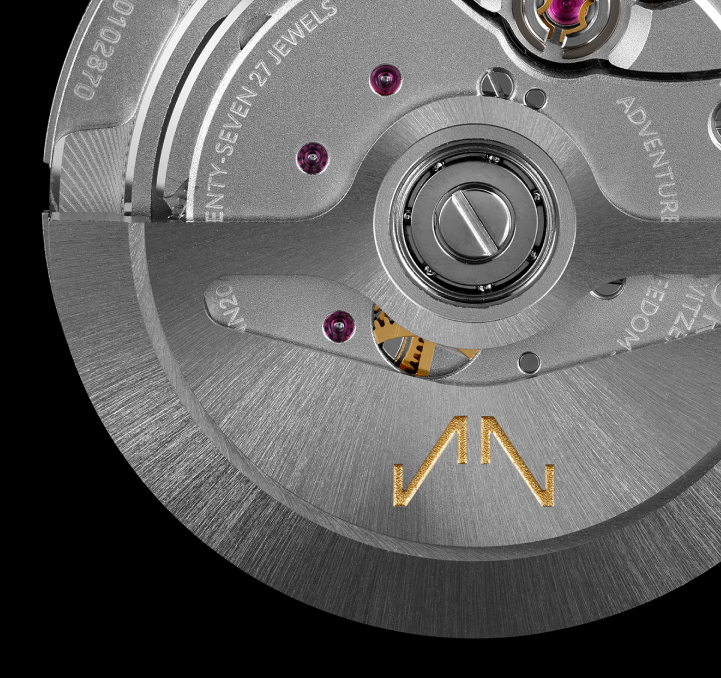 Benefits
Explore different time zones
Explore different time zones with pure GMT construction: Calibre NN20/2 offers an integrated GMT function with a jumping hour feature that allows the wearer to easily set the local time and change the date forward or backward at any time of the day without losing a second.
Weekend-proof
Both movements offer an impressive 70-hour power reserve so the wearer can remove their everyday NORQAIN Freedom watch on Friday evening, wear their sportier NORQAIN Adventure model over the weekend, and put on their Freedom on Monday morning without having to wind it or reset the time.
Sturdy construction
Calibres NN20/1 and NN20/2 have been designed and thoroughly tested for ultimate robustness and reliability. This is exemplified by the traversing balance bridge with a two-point fixation which improves shock resistance and allows precise positioning of the oscillator.
Certified precision
Both calibres are certified as chronometers by the Swiss Official Chronometer Testing Institute (COSC).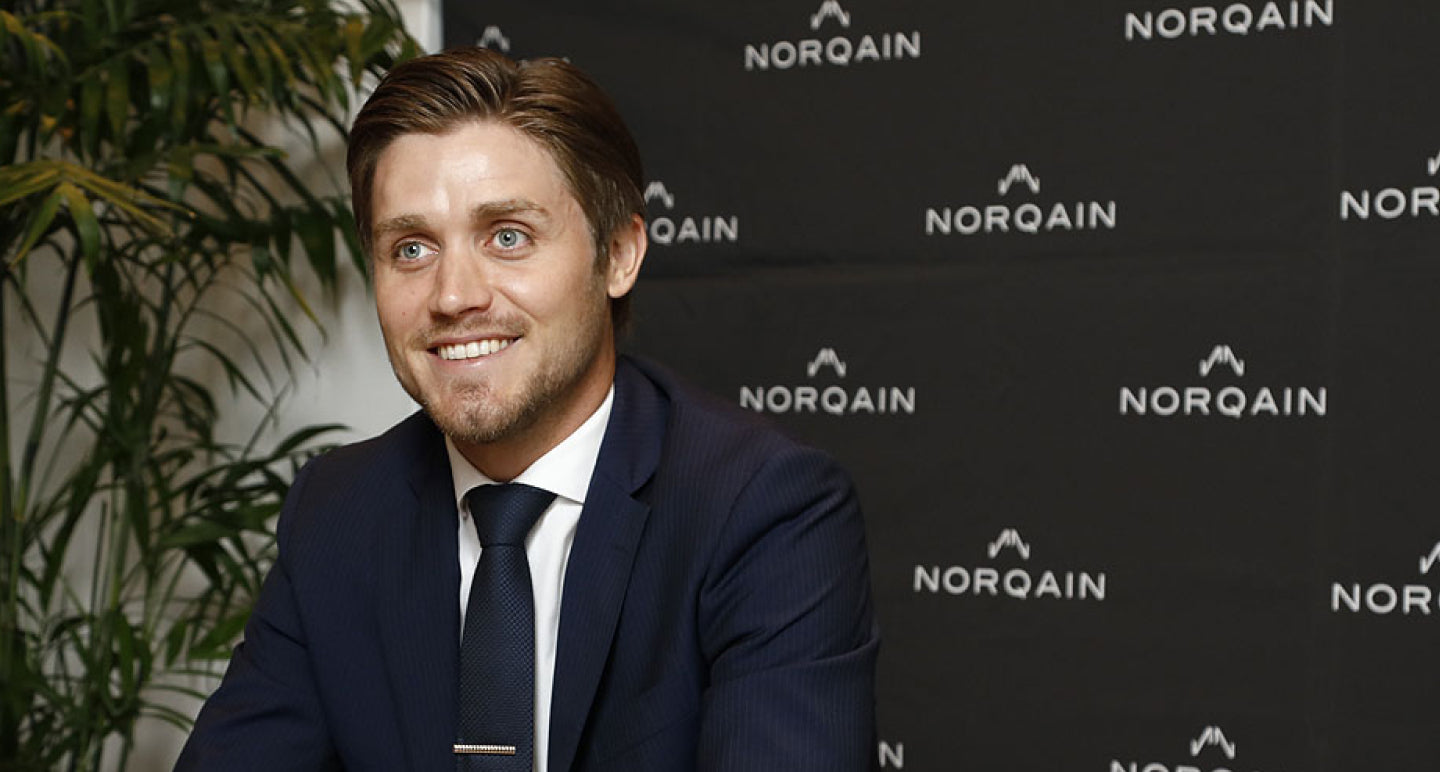 The view ahead
The launch of two Manufacture Calibres and the strategic partnership with Kenissi is an example of NORQAIN putting its values of innovation and quality and its daring spirit into action. Discussions between the two entities began shortly after NORQAIN was founded in 2018 and more interesting projects are planned for the future.
Adventurers can expect to see these robust models complement NORQAIN's current Independence, Adventure & Freedom collections.
"Founded on mutual trust, a spirit of innovation and long-term vision, this partnership allows our independent brand to offer our customers stylish, high-performance watches with movements that exceed industry standards and feature market-proven robustness. Investing in our independence in this way is an important milestone for NORQAIN."
— NORQAIN CEO Ben Küffer