At the core of our identity lies the NORQAIN logo, a symbolic representation of a mountain peak formed by two side-by-side N's. Our DNA resonates with an intrepid mountaineering spirit, constantly propelling us towards new horizons and endeavors.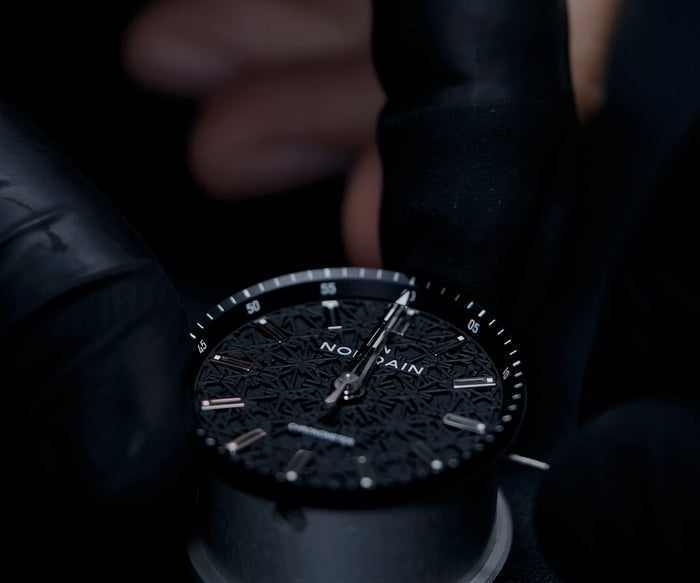 Swiss Made Family Tradition & Independence
NORQAIN embodies Swiss craftsmanship beyond mere "Swiss made" inscriptions on watch dials. With true family heritage rooted in the watch industry, our expertise spans over four decades. This journey has led us to create high-quality timepieces, pushing boundaries and embracing innovation. NORQAIN's independence ensures that our brand remains distinguished by our values, with inspiration drawn from our valued customers.
Know-How & Premium Suppliers
NORQAIN was founded in 2018 by CEO Ben Küffer, who assembled a remarkable team of Co-Founders and Board members. Ted Schneider, a member of the family that owned Breitling for nearly four decades, and Mark Streit, the Swiss ice hockey legend and Stanley Cup winner, joined as Co-Founders and Board members. Marc Küffer, Chairman of the Board, brings over 45 years of experience, primarily as an owner and CEO in the Swiss luxury watch manufacturing industry. He also served on the Board of Directors of the Swiss Watch Industry Association for 25 years.
Aligned by a shared long-term vision for the Swiss watch industry, NORQAIN and our premium suppliers are dedicated to investing in the continuous enhancement of product quality. This commitment ensures that we provide our customers with timepieces of exceptional craftsmanship.

Innovation
Supported by watch industry legend and NORQAIN's advisor to the board, Jean-Claude Biver, we aim to spread our passion for mechanical watches in the age of digitalization and smartwatches. Our mission is to support the movement of putting Swiss-made watches on the wrists of the young and the young-at-heart, a mission that Jean-Claude Biver wholeheartedly supports.
The result: The Wild ONE collection first presented in 2022 featuring our proprietary NORTEQ material which is six times lighter than steel and 3.5 times lighter than titanium.
"There are few truly independent watch brands that exist today – NORQAIN is rare in this sense. Without the pressure of shareholders, NORQAIN has freedom to create its own long-term vision and the path it takes to get there. This opens the door to innovation", says Jean-Claude Biver.
Customisable NORQAIN Plate
The unique NORQAIN Pate adds a one-of-a-kind touch to each model. This detail on the left side of the case makes a NORQAIN a loyal companion for all your journeys, experiences and wildest adventures. Your NORQAIN will celebrate your life accomplishments with you – your life, your way.
Learn more
100% Mechanical Watches & In-House Design
Leveraging our extensive expertise in mechanical watchmaking, we ensure each second is measured with absolute precision. As one of the select Swiss watch brands exclusively producing mechanical watches, we take pride in the meticulous hand assembly of every timepiece by our skilled watchmakers at our Tavannes production site.
To guarantee exceptional quality, we subject each NORQAIN watch to rigorous testing and thorough quality checks for several days. Our stringent standards encompass precision, functionality, and robustness. With in-house design, our timepieces feature exquisite case finishing, captivating dial designs, customisable NORQAIN Plates, and date discs that harmoniously match the dial's colour scheme. Additionally, all our models boast an open case back, providing watch enthusiasts with the opportunity to admire both the NN20 Manufacture Calibres and ETA/Sellita movements featuring personalised NORQAIN oscillating weights.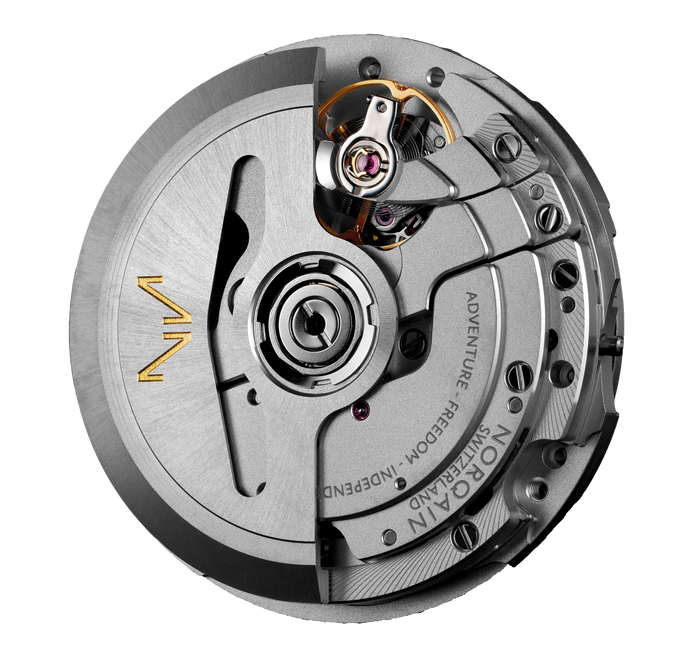 Next-Level Independence & Long-Term Vision
In February 2020, we proudly announced an exciting long-term partnership with esteemed movement manufacturer Kenissi allowing us to introduce two Manufacture calibers produced exclusively for NORQAIN. The three-hand NN20/1 and the GMT NN20/2, embody proven robustness, premier performance, and precision that surpasses industry standards. Both calibers have earned chronometer certification, solidifying their exceptional quality and accuracy and feature an impressive 70-hour power reserve.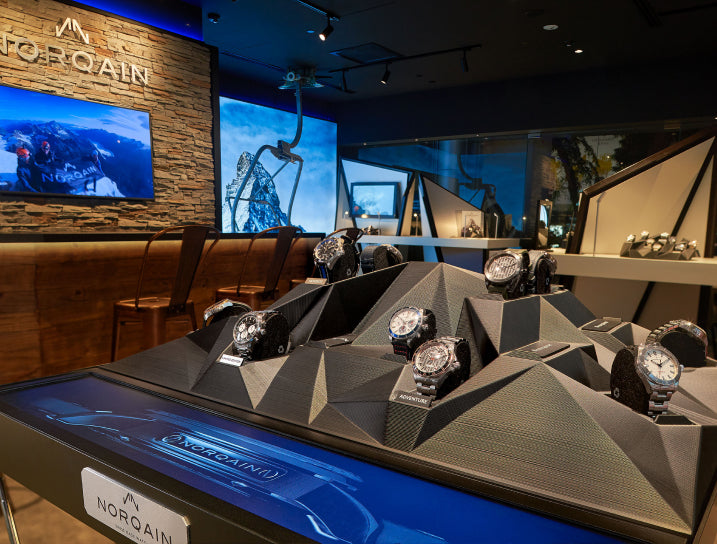 Leading Retailer Network
We recognise the significance of having a reliable retail and service partner to navigate every step of your journey. With a global network that spans across the world, we proudly collaborate with esteemed retailers including Bucherer, Wempe, Ben Bridge, Tourneau, Westime, Watches of Switzerland, Seddiqi, Ishida, Kamine, Oomiya, Wing, and many other renowned names in the industry.
Our Three Collections
At the core of our identity lies the NORQAIN logo, a symbolic representation of a mountain peak formed by two side-by side N's. Our DNA resonates with an intrepid mountaineering spirit, constantly propelling us towards new horizons and endeavors.